LOCAL COLD-PRESSED JUICE COMPANY • ADELAIDE, AUSTRALIA
Local, organic, cold-pressed juice company in Adelaide, South Australia. Selling at a range of farmers markets and festivals, Green Juice got it's name from one, simple, tried & true product that touches the hearts & nourishes the bodies of thousands of community members.
In March, 2017, The Garden Farmers Green Juice new it was time for a change. In the 3 years since formation the company was doing well, established and popular in the broad communities of South Australia. However, it had evolved and changed since it had been initially branded.
Starting as a group of young farmers working on a community grant to grow food for co-op, it was an offshoot decision to start making juice from their surplus and 'seconds' produce. It forked when this product quickly took center stage, and the team disbanded with lead Jay Kimber becoming sole owner.
After a few years of following the momentum of The Garden Farmers, and it being appropriate as she was still growing most of the ingredients that went into the juice, Jay reviewed where the company had grown to, and made the decision that not only did The Garden Farmers not feel right anymore, but the identification with being farmers making juice had shifted to a juice company first, and the support of farming being a inherent component.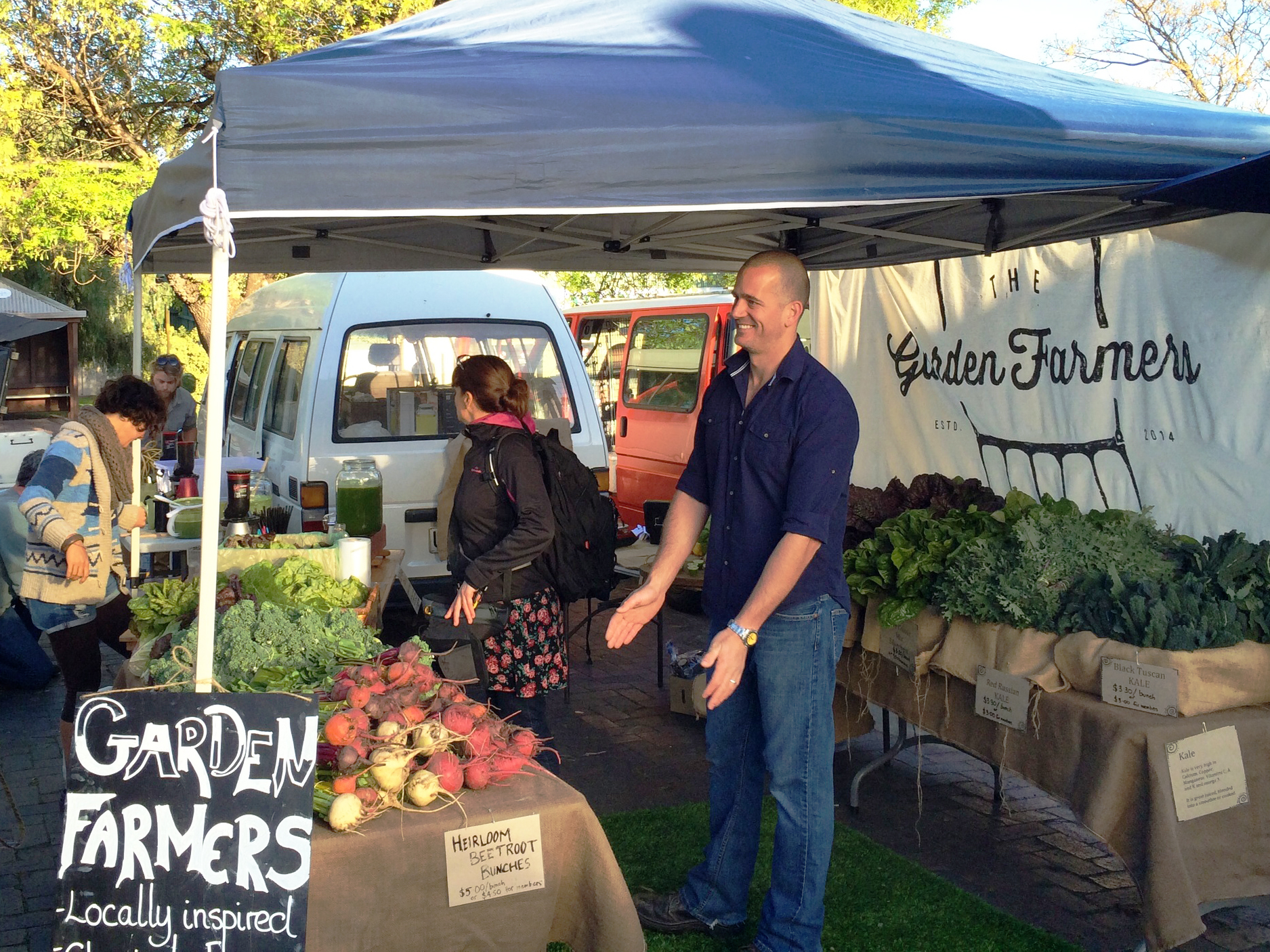 The Garden Farmers in the days as a team effort with a focus on farming and green juice as a byproduct.
So Jay decided to stop farming, and work with local organic farmers instead. She now had the premiere green juice product in South Australia, and it was a singular product only (no variations or other flavors). There were no real competitors, seeing as it was sold only direct to consumer at market stalls and festivals. With all of these considerations, and being in Jay's style to keep things clean, clear, and simple, we moved to re-appropriate the company and product to simply Green Juice.
We still wanted recognition from the earned, valued customers, so we made sure that the new logo follows in the farm-industrial/organic inspiration of The Garden Farmers, however it displays a new level of cleanness, as well as a play to the youthfulness and touch of femininity to give credence to its founder as well as the scores of women & children that love the brand's product.